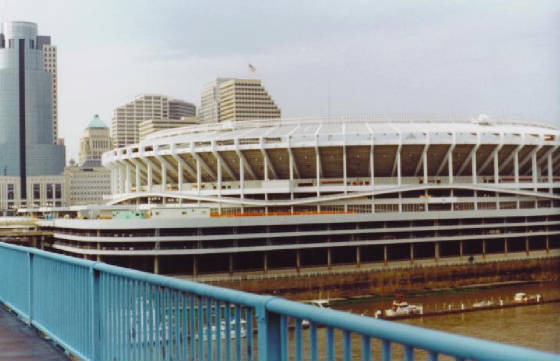 TEAM ::: CINCINNATI REDS
LOCATION ::: CINCINNATI, OHIO
MY FIRST GAME:: AUGUST 9,1990
OPPONENT::: LOS ANGELES DODGERS
ALSO KNOWN AS ::: CINERGY FIELD

IMPLODED ::: DECEMBER 2002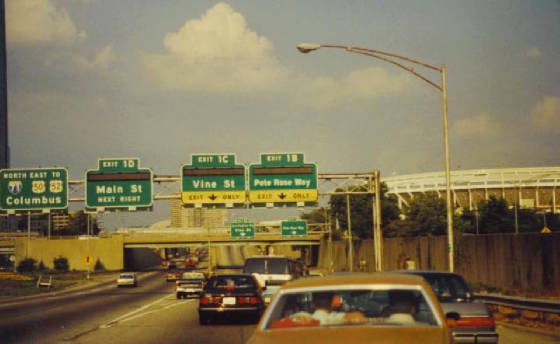 RATINGS
BALL FIELD ... D
SCOREBOARD ... C
FOOD ... B
FACILITIES ... B
MLB STADIUM RATING .. 36 OUT OF 40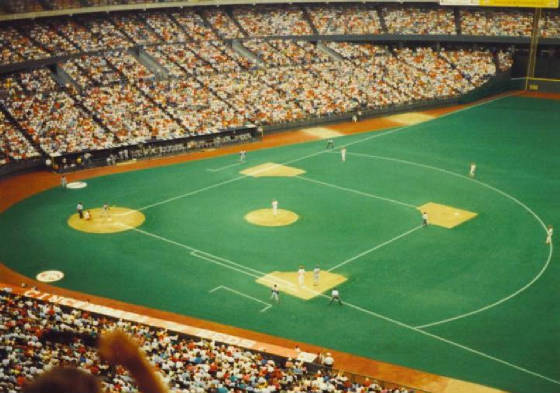 MY TAKE ON THE PARK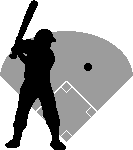 BASEBALL HAS A LONG HISTORY IN CINCINNATI AND HERE, THEY HONOR THAT HISTORY. THE EXIT FOR RIVERFRONT STADIUM WAS PETE ROSE WAY.
RIGHT OUTSIDE THE PARK IS A BRIDGE THAT TAKES TRAVELERS TO KENTUCKY, THE ROEBLING BRIDGE WAS OPENED IN 1867 AND WAS THE PROTOTYPE FOR THE BROOKLYN BRIDGE IN NEW YORK WHICH WELCOMED ITS FIRST TRAVELERS IN 1883.
WELL, I MUST SAY THAT OF ALL OF THE STADIUMS I'VE VISITED, THIS STANDARD COOKIE CUTTTER IS ONE THAT'S LEFT VERY FEW LASTING IMPRESSIONS.
ONE I WILL NEVER FORGET IS MARGE SCOTT'S (THE OWNER AT THE TIME) DOG SCHOTTZIE II. THE DOG WAS ON THE FIELD RUNNING AROUND DURING BATTING PRACTICE AND AT THE END OF THE NIGHT, THE DOG'S PICTURE CAME UP ON THE SCOREBOARD AND A VOICE THANKED ME FOR COMING.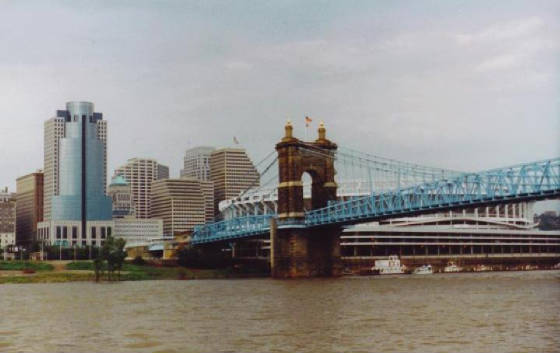 OUTSIDE OF CINCINNATI, THE ONLY PRESS YOU EVER HEARD ABOUT MARGE SCHOTT WAS VERY NEGATIVE. HOWEVER, AFTER SEEING A GAME AND LISTENING TO HER VIEWS ON THE REDS, I THINK SHE MADE A TRIP TO THE BALLPARK FUN AND INEXPENSIVE. BACK IN 1990. LOWER BOX SEATS WERE GOING FOR $8.50 COMPARED TO $12.00 AT SHEA STADIUM IN NEW YORK.

OF THE 37 PARKS I'VE VISITED, I RANK RIVERFRONT 33RD BEHIND VETERANS STADIUM BUT AHEAD OF THREE RIVERS, MAYBE JUST BECAUSE IT WAS SO CLEAN IN CINCINNATI.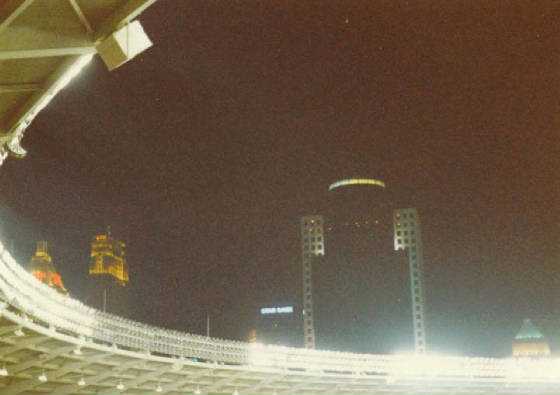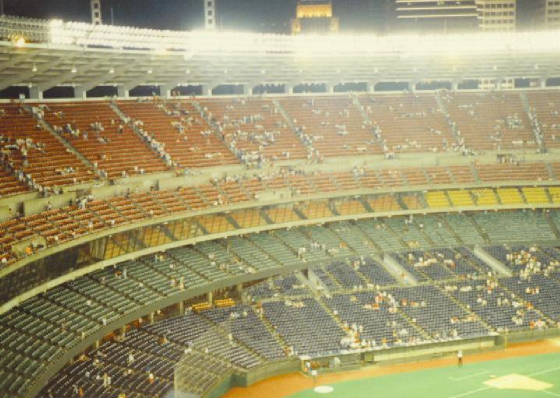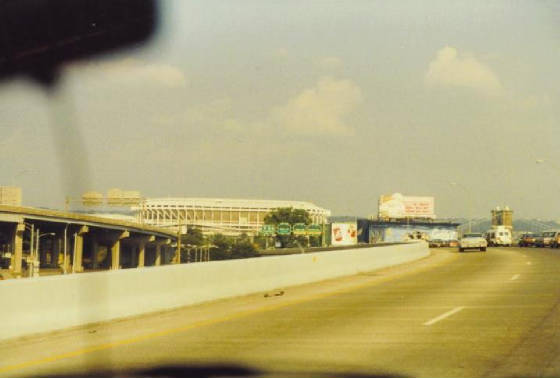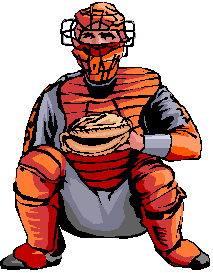 THE LINE UPS
DODGERS MANAGER :::
2 TOMMY LASORDA

REDS MANAGER :::
41 LOU PINELLA

LOS ANGELES DODGERS
29 Lenny Harris 3b
23 Kirk Gibson cf
28 Kal Daniels lf
33 Eddie Murray 1b
21 Hubie Brooks rf
14 Mike Scioscia c
10 Juan Samuel 2b
7 Alfredo Griffen ss
48 Ramon Martinez p / WP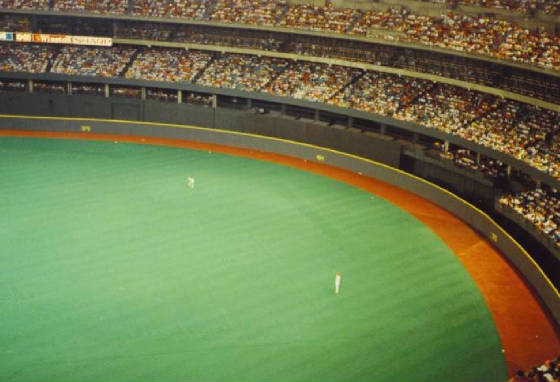 CINCINNATI REDS
11 Barry Larkin ss
21 Paul O'Neil cf
17 Chris Sabo 3b
44 Eric Davis cf
23 Hal Morris 1b
7 Mariano Duncan 2b
9 Joe Oliver c
22 Billy Hatcher lf
40 Jack Armstrong p / LP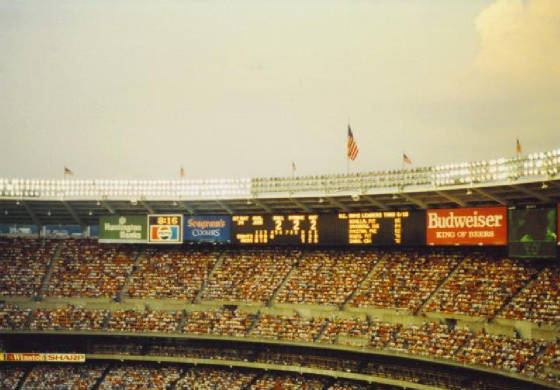 DODGERS 510 310 000 10 16 2
REDS 000 020 010 3 6 1

TIME ::: 2:42
ATTENDANCE ::: 30,891
WEATHER :: WARM
SEND ME AN E-MAIL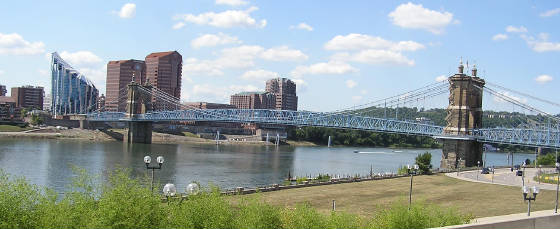 Crossing the Ohio into Kentucky, a view of The Roebling Bridge
LINKS
The Official site of the Cincinnati Reds
Riverfront / Cinergy Implosion pictures
Where they play now, my Great American Ballpark site
The Montgomery Inn - Excellent Ribs
The Skyline Chili site - A Cincinnati favorite
Cincinnati weather from WEATHER.com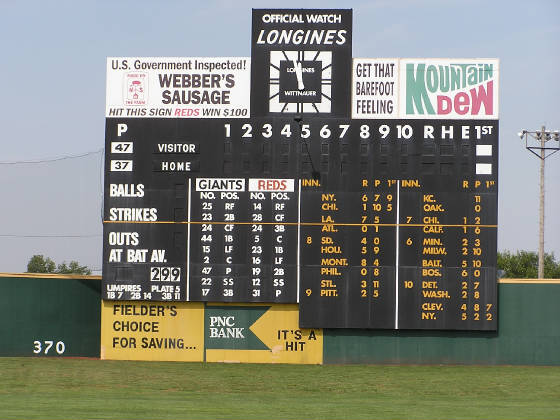 Located in Blue Ash, Ohio - The Scoreboard from Crosley Field
Page last updated :

© 2000-2012 UNCLE BOB'S BALLPARKS
I AM IN NO WAY AFFILIATED WITH ANY OF THE TEAMS ON THIS PAGE ... THIS
PAGE IS MEANT FOR INFORMATION PURPOSES ONLY.