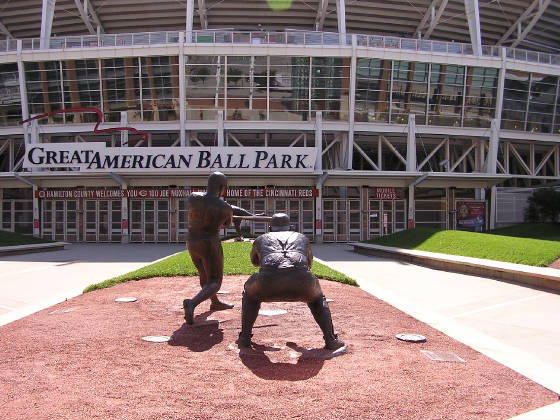 TEAM ::: CINCINNATI REDS
LOCATION ::: CINCINNATI, OHIO
MY FIRST VISIT ::: AUGUST 17, 2008
OPPONENT ::: ST. LOUIS CARDINALS
MLB STADIUM RANK ::: 17 OUT OF 40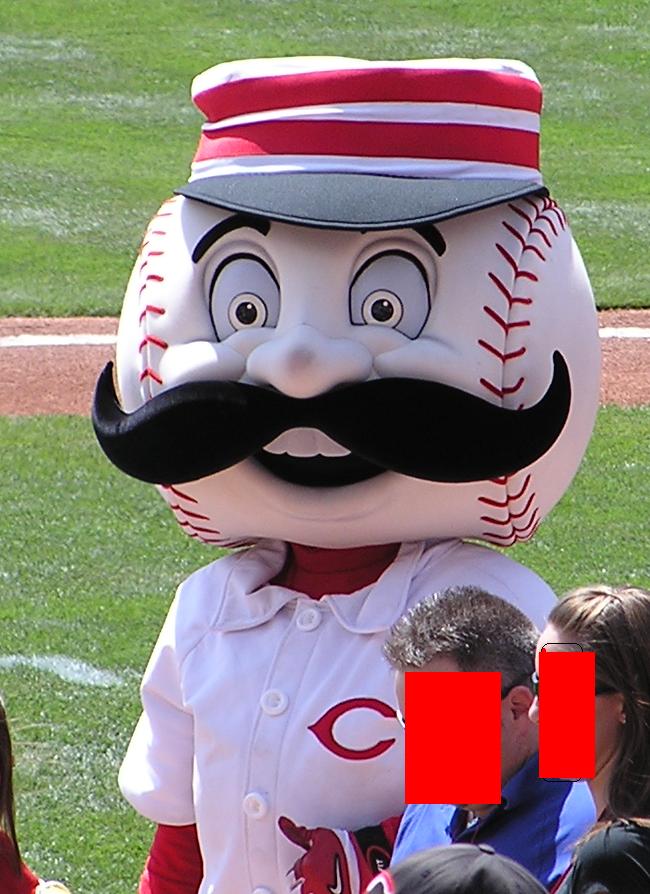 RATINGS
BALLFIELD ::: A
SCOREBOARD ::: A
FOOD ::: B
MASCOT ::: B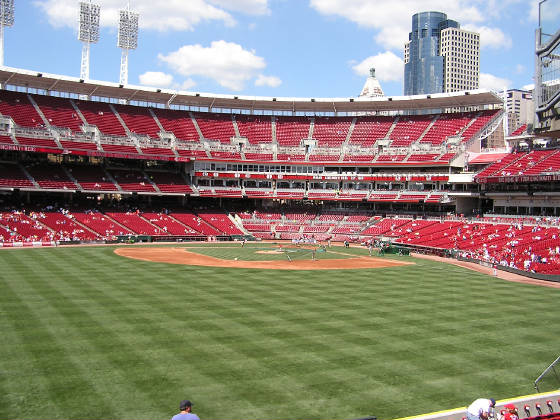 MY TAKE ON THE PARK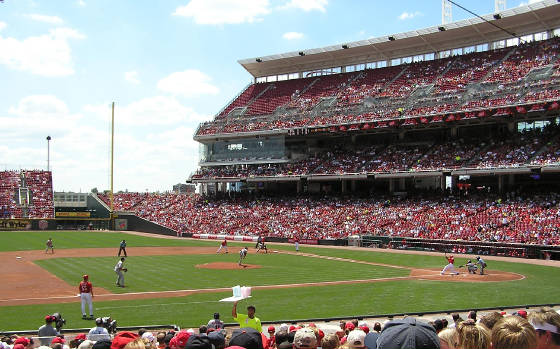 Great American Ballpark, aptly named. Cincinnati has a long baseball history, I've always felt that one area that baseball messed up on was when they stopped having the first pitch take place in Cincinnati. If
the team gets better, maybe TV will want to start the season here again.
Located off of Pete Rose Way rests The Great American Ballpark, situated on the river bank with a view of the Roebling Bridge, Paul Brown Stadium, and downtown Cincinnati. The place looks great from the outside
and does not disappoint inside or out.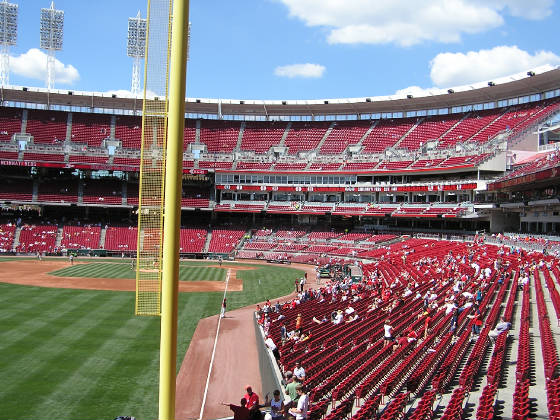 Whether walking from downtown or using one of the many downtown parking
garages, you will probably take one of the walkways over I-75 to get to
the park, believe it or not there may be guys selling tickets along the
road. Once to the entranceway, Cincinnati as a statue of kids playing
ball and, due to my schedule, a very nice tapestry thanking Ken Griffey
Jr. One of the many mentions of "Junior" around the park, a nice touch
by the Reds.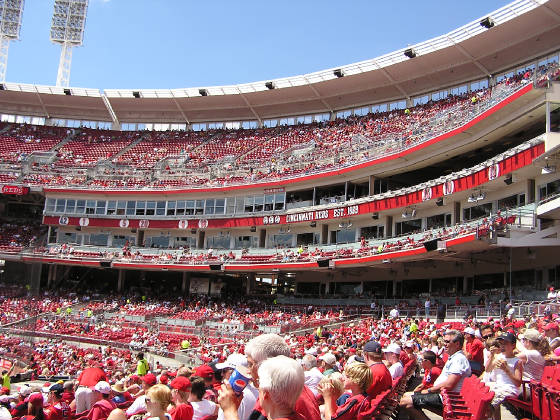 Cincinnati did a lot of good things with this park. A spacious concourse
awaits as you walk through the turnstiles with vendors all around
offering various souvenirs and eats. Along the first base side there is
a playground but unlike other parks, this is not a kids area. It is more
of a Kids of All Ages type of area. Photos of old Reds, a 90 foot sprint
area where you can run to first on a turf track, and a large area to
congregate with a group. There is also a smaller kids area, speed pitch,
jumping room, and maze all color coded in red.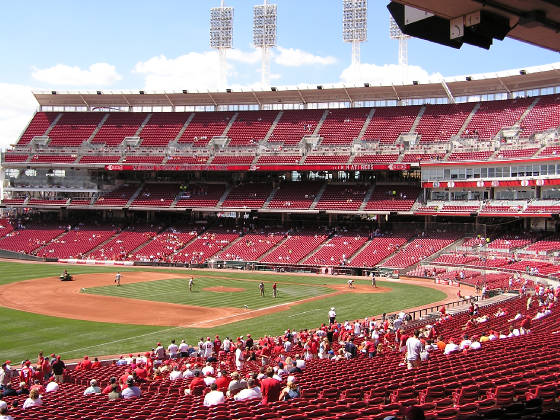 Once insde the seating area, all seats are red and against the dark
green lawn make Cincy's park a site to see. Comfortable seats and
excellent site line are all around the Great American Ballpark. A lot
like Cleveland, the park in Cincinnati has the toothbrush lights, a huge
scoreboard in left, and a huge Gift Shop outside the park. Unlike
Cleveland, Cincinati does not have 5 levels of luxury boxes keeping the
upper deck less steep than their neighbor to the north.
A trip to Cincinnati is a fun experience. Baseball seems to belong in

Cincinnati and when they built the ballpark they kept that in mind.

Around the concourse there are televisions not only showing the Reds

game but all other games going on in the Majors. Also, clearly visible

in center field is a Good Luck Junior, paying tribute to the a player

just traded. I don't recall seeing that type of thing in baseball. After

the game, it is a good idea to visit the Reds gift shop, very cool on

hot summer day but the Reds Hall of Fames is also located there.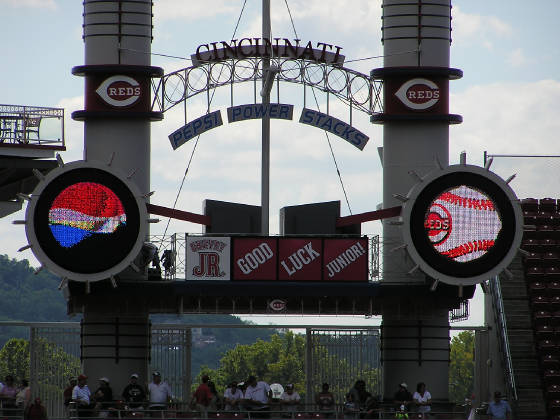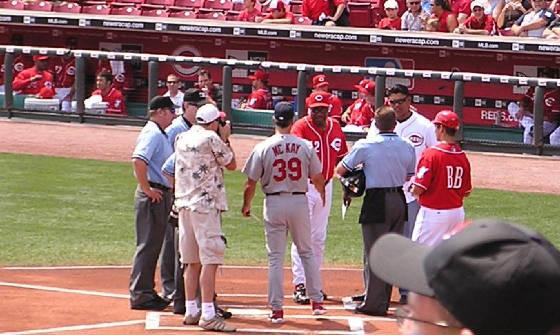 THE LINE UPS
St. Louis Cardinals Manager :::
10 Tony LaRussa
Cincinnati Reds Manager :::
12 Dusty Baker
ST. LOUIS CARDINALS
55 Skip Schumacher cf
47 Ryan Ludwick rf
5 Albert Pujols 1b
24 Rick Ankiel lf
8 Troy Glaus 3b
7 Adam Kennedy 2b
4 Yadier Molina c
26 Kyle Lohse p / LP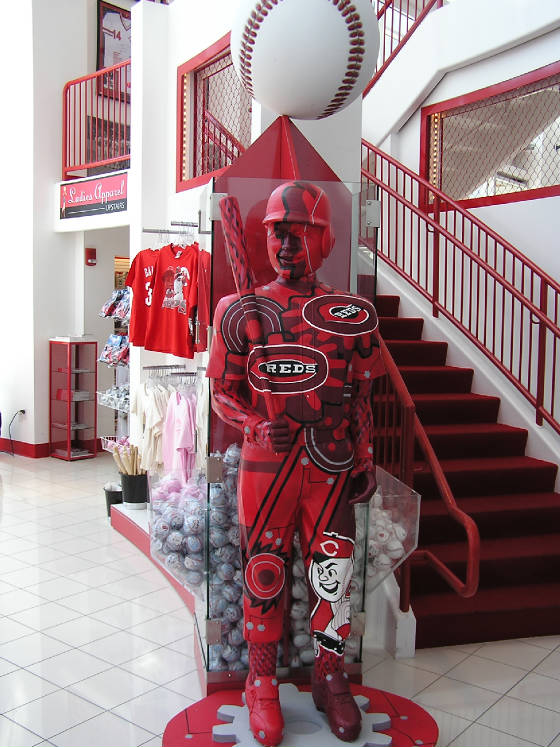 CINCINNATI REDS
21 Chris Dickerson cf
15 Jerry Hairsrton Jr. lf
32 Jay Bruce lf
4 Brandon Phillips 2b
17 Javier Valentin 1b
28 Edwin Encarnacion 3b
27 Jeff Keppinger ss
9 Paul Bako c
36 Edison Volquez p / WP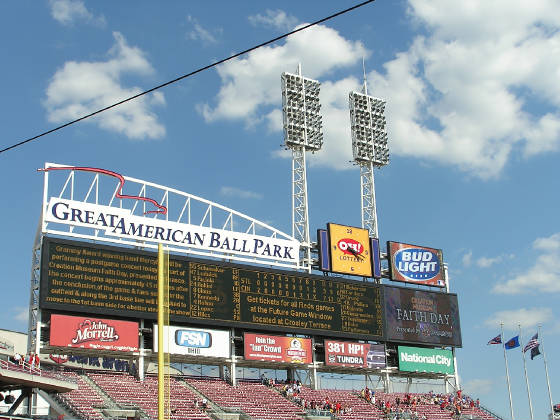 CARDINALS 000 000 012 3 9 0
R E D S 200 001 31x 7 13 0
TIME ::: 2:59
ATTENDANCE ::: 37,468
WEATHER ::: 86 SUNNY HOT
SEND ME AN E-MAIL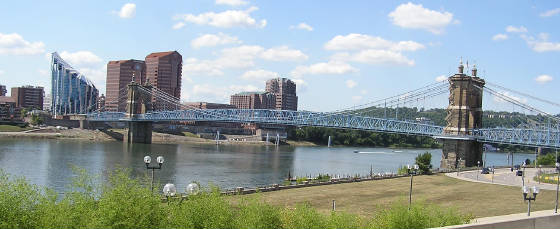 Crossing the Ohio into Kentucky, a view of The Roebling Bridge from Great American Ballpark
LINKS
The Official site of the Cincinnati Reds
Where they used to play, my Riverfront Stadium site
Excellent ribs in Cincinnati - The Montgomery Inn
Cincinnati weather from WEATHER.com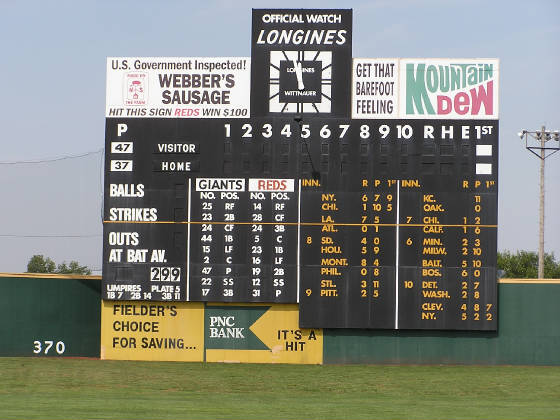 Located in Blue Ash, Ohio - The Scoreboard from Crosley Field
This site was last updated ::

© 2000-2012 UNCLE BOB'S BALLPARKS
I AM IN NO WAY AFFILIATED WITH ANY OF THE TEAMS ON THIS PAGE ... THIS
PAGE IS MEANT FOR INFORMATION PURPOSES ONLY.